If your irrigation system isnt't functioning properly, it could be costing you

money, harming your landscape and wasting one of our most precious resources.

The solution goes far beyond changing sprinkler heads every so often. It's about

managing the entire system, and about planning and design, and, we employ all

the latest techniques, equipment and technology to keep your irrigation system

functioning just the way it should. Our Irrigation Maintenance Program Includes:


*A Free Water Management Audit to inspect all sprinkler heads zone by

zone, your control box and settings, and to understand the conditions present in

your landscape *A customized plan for any necessary irrigation repair to bring

your system up to optimum working condition *Ongoing inspections of your

irrigation system for leaks or failures on a zone-by-zone basis *Adjustments and

cleaning of sprinkler heads *Setting the control box to water properly based on

your landscape's needs, seasonal weather patterns and local watering restrictions.

Its a completely free service with no obligations, and will save you and

your landscape unnecessary costs in the future.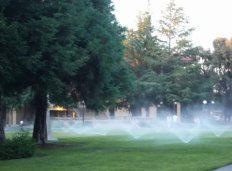 Better Than Rain Irrigation Inc. will customize your system to perform at its best and keep all of your landscape healthy all year long.